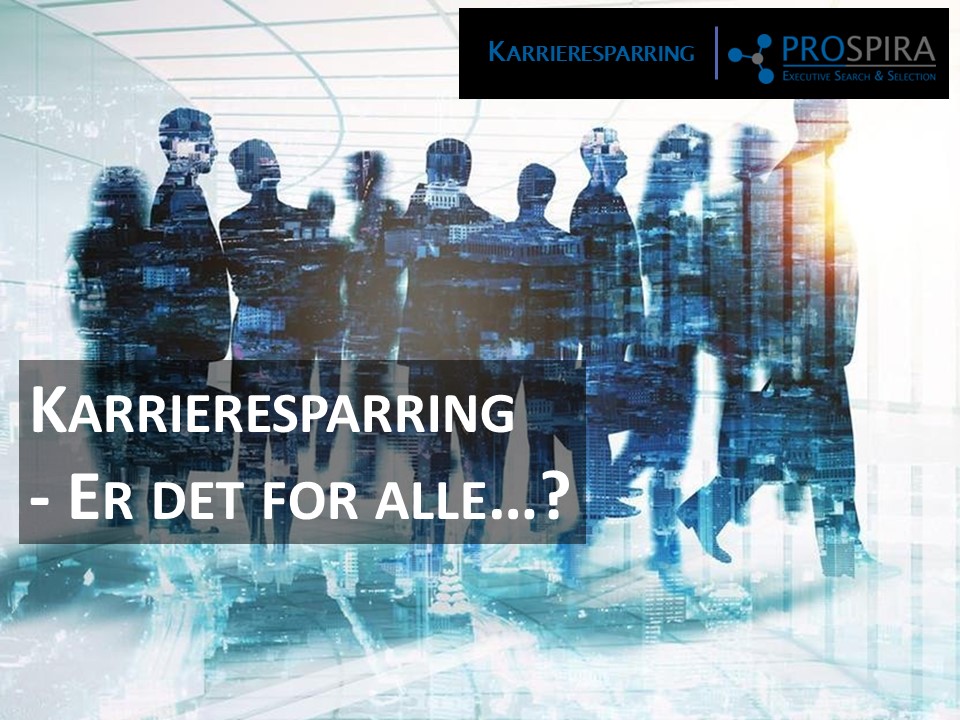 Karrieresparring – Er det for alle…?
Det korte svar er: "JA" – Gensidig evne og vilje er forudsætninger for de bedste resultater!
Behov er forskellige; men helt grundlæggende mener vi, at alle vil kunne komme styrket ud af et sparringsforløb. Forudsætningen er selvfølgelig, at de vælger en sparringspartner, som har evnen og viljen til at hjælpe det enkelte menneske, hvor mennesket er – og ønsker at komme hen.
Desværre hører vi lejlighedsvist, at udbyttet af et sparringsforløb ikke har været som så godt som forventet. Årsagerne er mange, og nogle af dem relaterer til, at kandidaten ikke selv har investeret den tid og energi i forløbet, som det kræver. Derfor er det også vigtigt, at begge parter (dvs. kandidaten og sparringspartneren) kontinuerligt vurderer, hvor der kan (og skal!) justeres undervejs for at sikre det optimale udbytte.
Transparens kan kun sikres via en åben dialog. Gensidig feedback bør derfor bl.a. fokusere på, hvad coachen/konsulenten med fordel kan gøre anderledes og hvordan, ligesom kandidatens indsatser og resultater skal vurderes – også af kandidaten selv. En struktureret, metodisk tilgang har mange fordele; men er ingen garanti mod manglende indsatser, ligesom værktøjer og opgaveløsninger aldrig bliver bedre end brugeren og sparringspartneren i forening tillader. Husk, at bagefter er det for sent at justere! På det tidspunkt er det forfra begynd!
Øvelse gør mester; men det betyder ikke – nødvendigvis –, at den der har gennemført flest forløb, er den dygtigste. Hos PROSPIRA har vi gennemført mange forløb; men vi fokuserer og prioriterer kvalitet over kvantitet. Det skyldes, at vi tror på og løbende får bekræftet, at forskellen ligger i detaljen – også når det gælder om at præstere bedst muligt som kandidat. Dette skal naturlig afspejles i vores sparring, som er baseret på en "MARGINAL GAINS" tankegang. En afledt effekt af dette er, at vi evaluerer hver eneste session og afslutningsvist hele forløbet. Kun på den måde kan vi tilpasse og optimere vores individuelle forløb. Dette mindset har bevist sit værd overfor kandidater med bl.a. følgende titler:
Adm. direktør
Area Sales Manager
Bestyrelsesformand
Bestyrelsesmedlem
Business Manager
CEO
CFO
CHRO
Construction Manager
Contract Manager
COO
Country Manager
Customer Service Manager
Department & Service Manager  Department Director  Department Manager
Development Manager
Director
Dir. of Education & Research
Director of Sales
Direktør
Executive Assistant
General Manager
Global Security Director
Group Lead
Head of Social Housing
Hoteldirektør
Hotel Manager
HR Business Partner
HR Director
HR-chef
HR-direktør
Indkøbschef
Indkøbsdirektør
Koncernøkonomichef
Marketingchef
Marketing Manager
Marketingdirektør
Marketing & e-Commerce Mgr.
Head of Sales
Head of Services & After Market
KAM
Logistikdirektør
Managing Director
Operations Manager
PA
Partner
Press & Comm. Manager
Process Manager
Product Manager
Product Specialist
Production Manager
Program Director
Project Manager
Purchaser
Purchasing & Sales Manager
Manager
Regional Manager
Sales Director
Sales Manager
Sales & Business Dev. Mgr. Manager
Salgschef
Salgsdirektør
Salgs- og marketingdirektør
Site Manager
Sr. Production Manager
Supply Chain Director
Sypply Chain Manager
Team Leader
Theater Manager
Warehouse Manager
Erfaringerne er mange; men hvis du mangler din titel på oversigten, kan det skyldes, at listen ikke er udtømmende. Alternativt, at du har mulighed for at bliver den første med lige netop din titel, som vi får mulighed for at hjælpe…
REFLEKSIONSSPØRGSMÅL: Hvad er din største karrieremæssige udfordring netop nu? Er du opsagt? Ønsker du at komme videre i din karriere? Ønsker du at arbejde PROAKTIVT med din PERSONLIGE PLAN B?
Grundighed og ordentlighed i rekruttering og opsigelse betaler sig – på forkant og bagkant
3 årsager til, at din virksomhed har behov for en outplacementløsning NU